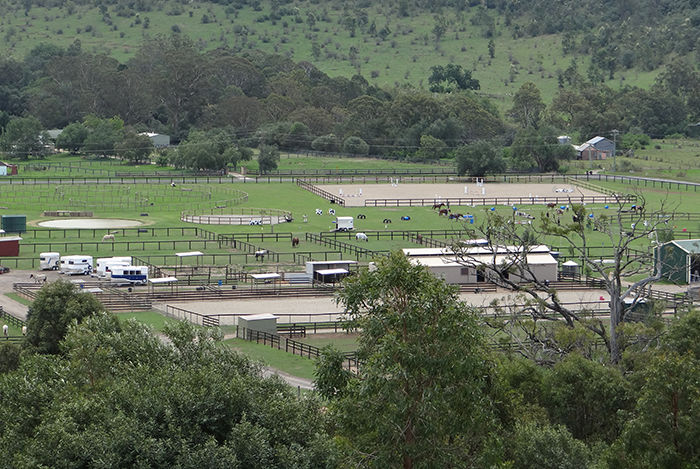 Spring Creek Park offers a sensational variety of quality facilities. SCP grounds are manned by staff 24/7 , automatic gates only accessible via pin code, and security cameras surrounding the property allow you to relax knowing that your horse/s and gear are as safe as possible.
40 x 20 Covered arena inside-outside 60 mtres.
New Flex surface with rubber bounce off side fence
8 Stable complex with adjoining grass paddocks
Private Paddocks with stables and shelters
Shared paddocks (horses separated for feeding)
Paddocks with shelters and stables
70m x 70m Sand Show Jumping arena fully fenced
40m x 70m Sand rectangle arena fully fenced
40m x 20m Sand Dressage arena fully fenced
60m x 20m white competition style Grass Dressage arena
60 x 20 grass arena fully fenced
40m Sand Round arena fully fenced
60m Arena with 4x 15m round yards inside Training Maize (Honeycomb)
20m Sand Round Yard Fully Fenced

15m Sand & Rubber Round Yard
Cross-country course
Undercover warm water wash bays
Cold water wash bay
Horse obstacle course and play area
Grass riding area
Cross country jumps
Swimming pond
120 Acres of rolling trail riding land
Float Parking
Lockable shed for gear storage
Toilet and kitchen facilities
Large riding area with several different obstacles including jump circut.
Please Note: All paddocks are fenced with timber post and rail, with electric tape around the perimeter. Also, all arenas with the exception of the grass white competition Dressage arena are fenced.